Over the last year, EDINA have been assessing the launch of an Entitlement Registry as a viable service for Higher Education, both in the UK and internationally. We have partnered with the LOCKSS Program at Stanford University to create an Entitlement Registry application that is a self-service tool to provide a single place to upload and keep entitlement records.
We held a couple of webinars on Wednesday 17th April for people to come along and see what we've been up to. If you weren't able to make one of the sessions, or you'd like to review what you heard, here is the recording of the second session: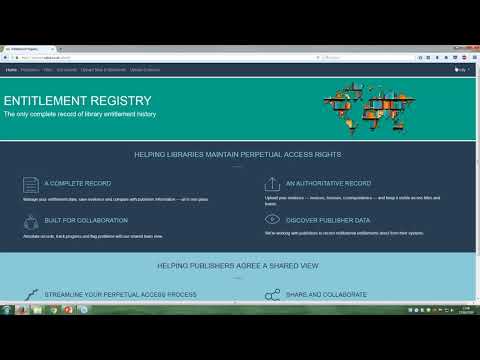 We've also put together a FAQ document to cover the questions that were raised across both sessions: Entitlement Registry Webinar FAQs
It's worth noting that the information in the webinar and FAQ was correct at the time they were created, but we're constantly making changes and updates to the Entitlement Registry. If you're looking at this in May, much may have changed!
Additionally, we're pleased to confirm that our beta service will be going live in May, and we're looking for beta testers. Beta testing will involve uploading your entitlement data to our platform and providing feedback to us on various aspects of its performance.
Our beta testing phase will allow us to assess the uptake, benefits and drawbacks of our approach to entitlement logging. Librarians will be able to upload, store and reference both locally produced records and those downloaded from a publisher.
Strong community uptake will help demonstrate strong library demand and urgency for publisher participation and, in parallel to this beta activity, we will continue to negotiate with publishers to articulate and reinforce the strong demand we hear from the library community.
Stay tuned to this blog, as we will be bringing you behind-the-scenes information and keeping you updated on developments.
Please let us know at edina@ed.ac.uk if you'd like to get involved in beta testing, or if you would like more information.